Radically Improves Working Conditions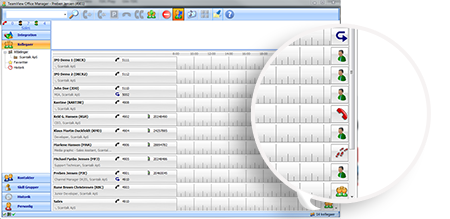 Office Manager is a Unified Communication client which provides entire organization visibility and the tools to enhance employees' collaboration like Call Control, Contact Management, Directory Services, Calendar Lookup, Presence/Absence information, etc. Its powerful Pop-up features and Embedded Browsing capabilities ensure the widest 3rd party integration support available.

Additionally, it's the best Call Center Agent you've ever seen! Supports different native Agent status and its built-in personal Wallboard allows you to show metrics like call load, group members, available agents, etc.

With Office Manager you will see instant gains as a result of improved operational efficiency, enhanced teams' collaboration and stronger relationships with colleagues, customers and associates.
Features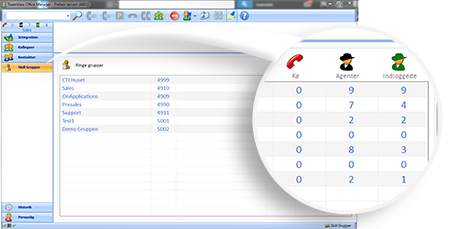 Intuitive Interface
Visualized using icons and graphics ensuring a faster overview for busy employees. All telephony functions and most used features can be operated with single mouse clicks.
Active Directory Integration
Contact related data (name, initials, cellphone number, etc.) and organizational information (department, position, skills, etc.) are sourced from Active Directory or LDAP at predefined intervals.
Entire Organization Visibility
Tab Colleagues contains the organizational structure and any employee detail can be displayed with a mouse click.
Contact Management
Office Manager provides a user-managed database for both personal and shared contacts which can be imported from any 3rd party application and displayed in a tree structure format.
Powerful Search Engine
Queries can be executed by any contact related data or organizational information. Phonetically search is also supported so Mr. Smith will be located even though he's been searched by Schmidt.
Call Center Agent Capabilities
Supports different Agent status and provides a brief view on its primary Hunt-group with information on queue status like number of calls, amount of available and logged agents.
Calendar Information
All employees' calendar entries are gathered from MS Exchange or Lotus Notes at predefined intervals. Just put the mouse over the entry to see more details about the meeting.
Presence/Absence Management
Availability of employees are displayed with intuitive icons showing Phone and Mobile Status*, OCS/Lync Presence, PC status (screen saver and login/logout) and Absence cause like In a Meeting, Lunch, Vacation, Maternity, etc.
3rd Party and Embedded Browsing Integration
Any application or internet page can be launched/Pop-up from Office Manager by user intervention or automatically, based on Caller Information.
Multi-platform Support
Office Manager has no limit in the amount of dissimilar systems to connect with. Embedded multi-vendor capabilities allow any company to maintain a Unified view of the entire organization even on multi-site distributed environments.
Supported Platforms
Avaya
Avaya Aura Communication Manager 3.x or higher
Avaya IP Office all versions.
Alcatel-Lucent Enterprise
OmniPCX Office 2.x or higher
OmniPCX Enterprise with RestAPI (phone status only)
Cisco
Cisco Unified Communication Manager 6.x or higher
Innovaphone
Innovaphone PBX 7.x or higher
Microsoft
Lync Server, Skype for Business Server/Online and Teams Presence supported
Exchange Server Edition, Exchange Online and Office 365 for Calendar integration.