The Best Attendant Console for Receptionists
Unified Operator is a Unified Communication client which provides centrally located staff with a complete overview of the entire organization and tools for handling all telephony communication taking place through the company's Attendant Console function.
Its native Agent support allows you to take full advantage of your Automatic Call Distribution (ACD) system. A built-in personal Wallboard shows metrics like call load, group members, available Agents/Receptionist, etc.; ensures the highest levels of customer service ever.
Unified Operator's intuitive user interface, powerful Phonetic search engine and simplified use of keyboard deliver the optimal work conditions for receptionists giving what they need to provide customers with a friendly greeting and fast call handling.
Features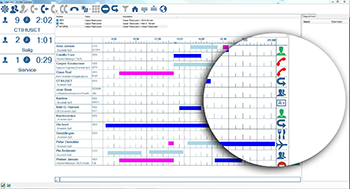 Intuitive Interface
Unified Operator is visualized using icons and graphics ensuring a faster overview for busy receptionists. Additionally, all telephony functions can be operated with keyboard shortcuts and/or single mouse clicks.
Active Directory Integration
Contact related data (name, initials, directory number, cellphone number, etc.) and organizational information (department, function, position, skills, etc.) are sourced from Active Directory (AD) or LDAP at predefined intervals. Any receptionist can add shared contacts that are not included in AD like customers, partners, suppliers, contractors, etc.
Powerful Search Engine (Phonetic)
Free Text Queries are supported and the returned results are narrowed down progressively as data is entered. Besides from obvious information like name and department, queries can be executed by skills, job functions and any other contact related data or organizational information. Phonetically search is also supported so Mr. Smith will be located even though he's been searched by Schmidt. It is also useful to support persons with mild dyslexia.
Calendar Information
All employees' calendar entries are gathered from Exchange and/or Office 365 and shown in colors according to its type.
Presence/Absence Management
Availability of employees are displayed with intuitive icons showing Phone and Mobile Status*, Skype for Business/Lync Presence, PC status (screen saver and login/logout) and Absence cause like In a Meeting, Lunch, Vacation, Maternity, etc.
Colleagues Management
If the desired employee is unavailable, Unified Operator will list all its colleagues (same department) if the caller would like to be transferred to another person. Receptionists can also change employees call forwarding options on demand.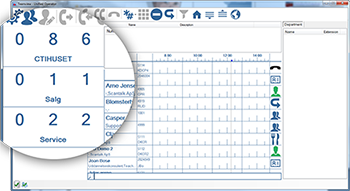 Call Center Agent Capabilities
TeamView® Unified Operator can be Logged-in as an Agent in order to guarantee that incoming calls are distributed fairly amongst the available receptionists. Available and Logged-in Operators information is displayed.
Supervision of Hunt-Groups
Unified Operator can supervise up to 10 hunt-groups providing receptionists with an instant workload overview.
Multi-platform Support
Unified Operator has no limit in the amount of dissimilar systems to connect with. Embedded multi-vendor capabilities allow any company to maintain a Unified view of the entire organization even on multi-site distributed environments.
Supported Platforms
Avaya
Avaya Aura Communication Manager 3.x or higher
Avaya IP Office all versions.
Alcatel-Lucent Enterprise
OmniPCX Office 2.x or higher
OmniPCX Enterprise with RestAPI (phone status only)
Cisco
Cisco Unified Communication Manager 6.x or higher
Innovaphone
Innovaphone PBX 7.x or higher
Microsoft
Lync Server, Skype for Business Server/Online editions
Teams Presence supported
**Teams Call Control will be ready immediately after Microoft publishes the official API.
Exchange Server Edition, Exchange Online and Office 365 for Calendar integration.
Tags: Avaya AvayaCloudOffice Cisco innovaphone IPOffice AvayaAura Teams Office365 Unified Operator Attendant Console